Made in Canada
Add liquid & blend
Premium Ingredients
Nutritious & Delicious
Delivered right to your door
Plant based superfoods
Plant-Based. Preservative-Free. Gluten-Free. Dairy-Free. All-Natural Ingredients.
OUR SUPERFOOD INGREDIENTS
Made with premium superfoods, fruits, and veggies that are flash-frozen at peak nutrition, all our smoothies contain a variety of nutrients like Vitamin C, A, K, iron, calcium, fiber, protein and more to provide health-boosting benefits.
Whether you're looking to improve immunity, increase energy levels or enhance weight loss, our superfood smoothies make it easy to fuel your body with the full range of nutrients it needs.

All-Natural Ingredients
Made with real, whole, and clean ingredients that are flash-frozen at peak nutrition, everything is sourced directly from the farm. With no artificial flavors added, we make it easy to enjoy fresh, nutritious, and delicious pre-portioned smoothies at your convenience.

No Added Sugars
With no added sweeteners, no preservatives, no gluten, dairy or artificial colors, our smoothies are packed with a perfect balance of natural sugars found in veggies and fruits, giving you the essential vitamins and minerals your body needs.

Vegan / Plant-Based
We globally source nutrient-rich plant-based foods that help to improve health and prevent various illnesses. Our ingredients are low in saturated fat, free of cholesterol, and are rich in fiber, vitamins, and antioxidants. Additionally, being plant-based allows us to play a part in reducing our carbon footprint.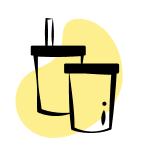 Choose Your Smoothies
All-natural superfood smoothies built on premium superfood ingredients, and made in Canada.
We Prep & Deliver
Perfectly portioned, packaged in on-the-go cups and delivered frozen right to your door.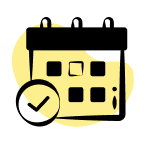 Enjoy Your Smoothies with Flexibility
Simply add liquid and blend! Skip, edit, or pause your orders at any time.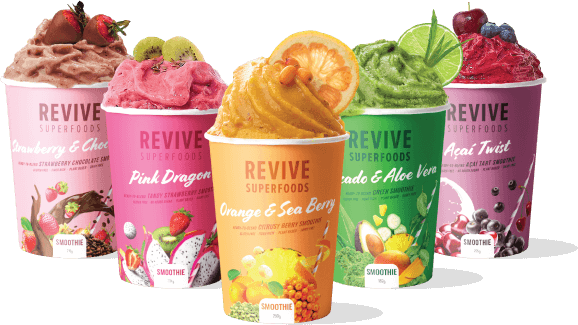 Premium Superfood Smoothies Chef-Crafted for You.
We believe better living starts with better eating. Our mission is to provide accessible superfoods that are nutritious, delicious, and made with sustainably sourced ingredients. Our perfectly portioned smoothies are made in Canada, delivered right to your door and ready to enjoy in minutes.
Get Started
BEST SELLERS
Try our most popular smoothies crafted with nutritious superfood ingredients that our community loves.
Get Started
New & Trending
×
We've teamed up with Jamba to bring you two *NEW* Jamba-inspired superfood smoothies. Just add your liquid of choice, blend, and enjoy! All from the comfort of your home.
JAMBA INSPIRED
PLANT BASED
CONTAINS FIBER
RICH IN VITAMIN C
CONTAINS IRON
NO ADDED SUGARS
GET STARTED
JAMBA X REVIVE
SMOOTHIES
- 25 AED per item
Try our delicious Jamba-inspired smoothies. Just add liquid, blend, and enjoy!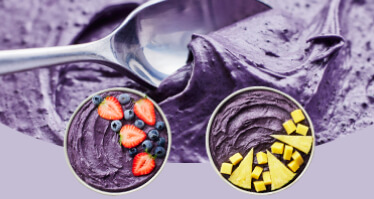 SMOOTH, DELICIOUS, THE PERFECT TREAT
Introducing ready-to-eat
AÇAI BOWLS
EXPLORE AÇAI BOWLS