Blueberry & Maqui Berry
1 serving per cup
Talk about an antioxidant explosion! Our Blueberry & Maqui smoothie is IT! Sitting at only 12 grams of net carbs this delicious smoothie is keto friendly, rich in fiber, and is sweet and creamy in flavor. Think of a warm slice of blueberry pie, only better. YUM!
More smoothies
INGREDIENTS
Blueberries
Avocado
Cauliflower
Pea Protein
Ground Cinnamon
Maqui Berry Powder *
Chia Seeds
Cranberry Powder
* Organic
SUPERFOOD HIGHLIGHTS
Honest and simple ingredients that nourish you from the inside out.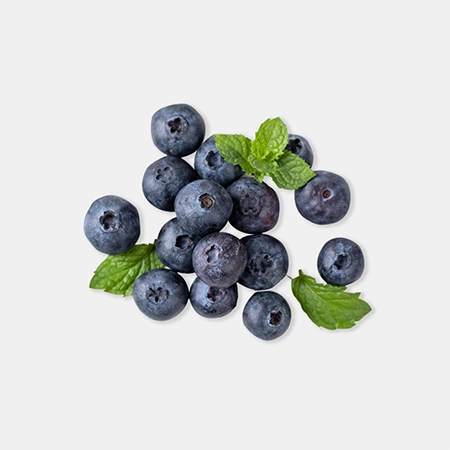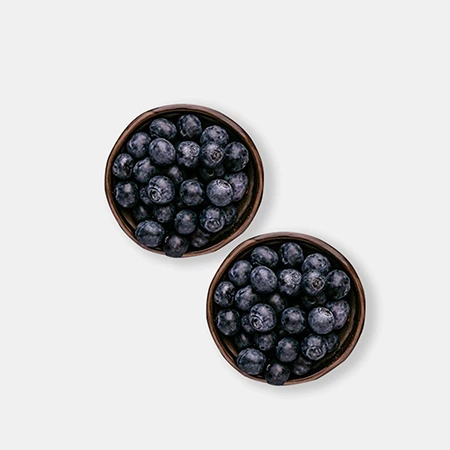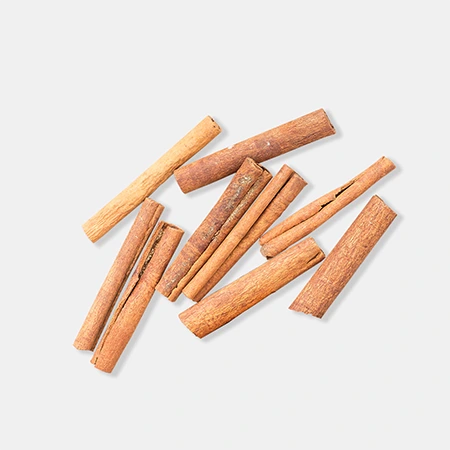 Blueberries are small yet mighty. These tasty superfoods are packed with anthocyanins, a type of antioxidant that adds to the fruit's gorgeous colour and health benefits. Anthocyanins will protect your body from oxidative stress, inflammation, and heart disease. Blueberries also contain a good amount of fibre and manganese. Manganese is an essential mineral that is needed for normal metabolism and energy production.
Source: Canada
Maqui berries are an exotic dark purple fruit that grows wild in South America. They are high in fibre and inflammation fighting antoxidants.
Source: Chile
Loaded with antioxidants, cinnamon can help to protect the body from oxidative stress and inflammation. Cinnamon also reduces insulin resistance, meaning that it can help to lower blood sugar levels.
Source: Vietnam
BENEFITS, EXPLAINED
High Fiber
How this helps me:
Fibre promotes nutrient absorption and the growth of healthy gut bacteria. It also helps to keep the digestive system moving, preventing constipation and reducing symptoms of IBS.
Backed by:
Blueberry, Pineapple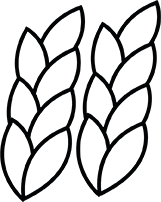 No Added Sugar
How this helps me:
Reducing your sugar intake may support a healthy weight, decrease your risk of depression, and reduce your risk of heart disease, among other health benefits.
Source of Vitamin C
How this helps me:
Vitamin C is a dietary antioxidant that boosts the immune system, prevents free radical damage, and protects the skin.
Backed by:
Acerola, Açai, Blueberry, Cherry, Mango, Pineapple, Strawberry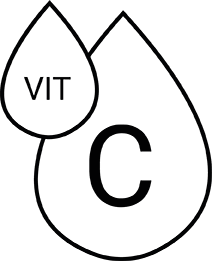 HOW TO PREPARE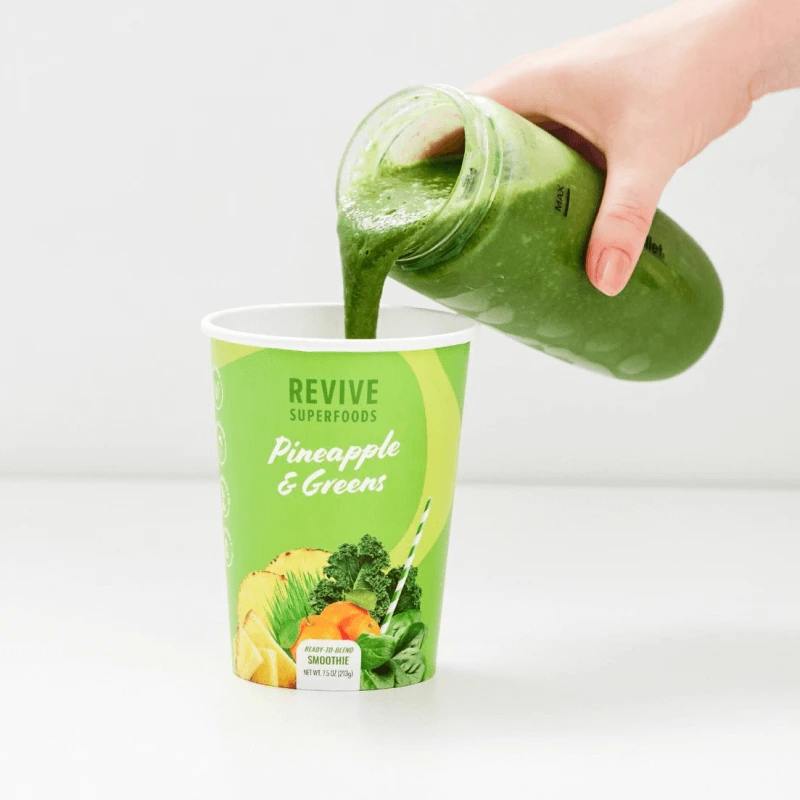 1

Add your favourite liquid into the pre-portioned cup.

2

Pour everything into a blender and serve!
PEOPLE ALSO BOUGHT
Looking for something new? Superfoodies who love Blueberry & Maqui Berry also liked these items
12 reviews
4.3 overall rating
Reviews
Nicolette M
August 14, 2023
aaaaa
Fruity and fresh
I love blueberries so I am a fan of this smoothie when I want a fruity base!
aaaaa
delicious
It tastes refreshing, I will always order it
aaaaa
Very nice
I love it
Tips:
😋😋😋
aaaaa
Good flavors
Healthy mix, tasty flavors and nice texture. I really enjoy my morning routine with those smoothies.
Tips:
Make sure you have it early in the day for a better appetit.
aaaaa
Taste & quality approved!
If you are looking for a healthy option products. You should try revive superfoods.
Tips:
Just add milk and walla your healthy smoothie is ready to serve!
aaaaa
Cool and Convenient!
Ever since I ordered in February, I cannot think of not having any Revive Superfoods in my freezer. I love the convenience every morning and it has definitely helped me 'wean' off from caffeine and practice more of mindful eating.
Tips:
I add Weetabix cereal to my Revive Superfoods! Loving it!
aaaaa
The best smoothie
This is my favorite ❤️.
Every sip give you a new flavor. If you don't like the cinnamon dont worry with this smoothie you will like it, if you like cinnamon this will be your favorite smoothie


Tips:
Drink with coconut or almond milk
Jay rael G
April 26, 2023
aaaaa
Berry good
I love smoothies with berries
aaaaa
Taste is acceptable
I liked the taste of those mixed fruit and the fact that how healthy and full you will feel if started your day with it
Tips:
Once mixed with almond milk tastes become better and more flavorful